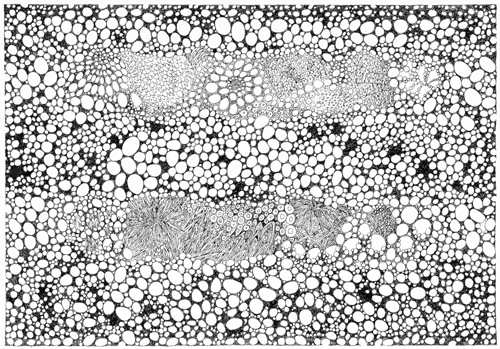 Kohelet: The Visual Meditations of Harriet Finck
Harriet Finck
September 13-October 26, 2016
"All streams run to the sea,
but the sea is not full;
to the place where the streams flow,
there they flow again."
Nature, history, our own lives — everything under the sun moves in cycles. From the never-ceasing flow of water to the sun's rhythmic rising and setting, the writer Kohelet ponders the world's cycles in the book Ecclesiastes, weaving words that circle and connect in poetic patterns ("one generation passeth away, and another generation cometh"). Kohelet questions what it means to live a well-lived life even as his thoughts circle back to "vanity of vanities, all is vanity" and he considers the temporal condition of all that is on earth.
In her work, Harriet Finck also ponders the cycles of nature while weaving words and images that circle and connect in poetic patterns — a visual meditation on the text of Kohelet. Finck creates worlds that are both infinite and limited: hundreds of individual lines, circles, and even script amass to create boundless landscapes confined only by the canvas, brought to life through her contemplative and meticulous mark making. Finck's process of committed and repeated gestures draws us to consider the gestures of our own lives. Are such actions foolishness if all is indeed "vanity of vanities"? Or does a stronger force exist that compels us to persevere despite the vanity of it all? And what of the cycles we personally experience and witness, starting from birth and ending with death — how are we to make meaning within these patterns that we live and move?
Please visit www.harrietfinck.com for more information on the artist.
Curated by Christina Young